We will buy your property. You will receive a payment within 48 hours of signing a purchase agreement. We buy apartments, houses, cottages, and chalets. Buyouts in Prague, Brno, and throughout the Czech Republic.
Who is a buyout suitable for?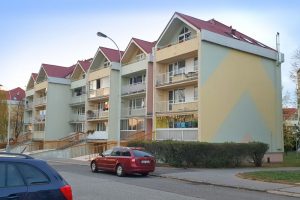 For all property owners who need to get quick cash from the property, they are selling.
You want to buy another property
You've found a property you've fallen in love with and you want to buy it. But you don't have the money to buy it, you don't want to take out a mortgage or you can't. The property you have chosen is so attractive and the seller can't wait a few months to get the money from the sale of your existing property. There is a risk that if you don't act quickly, you will be beaten out by another bidder. The solution is to buyout your property.
Do you have a problem repaying your mortgage?
Buyout properties are most appreciated by people who are having trouble paying their mortgage and are at risk of being placed on the non-payment register, which would make it very difficult for them to apply for a mortgage in the future or any other loan application. Sometimes they have no time left to sell the property in the standard way, which usually takes several months. In this case, it is better to sell the property immediately, before you get on the register of non-payers, and later, when you have recovered from your financial problems, you can easily apply for a new mortgage.
Do you have financial problems? Are you in danger of foreclosure?
Are you in over your head and unable to solve your financial problems on your own? Are you facing foreclosure and involuntary auction? Buying a property is a reliable solution. Even if your property is already encumbered by foreclosure, it is still possible to come to an agreement with the foreclosing party and buy your property. In most cases, you will receive more money through a direct purchase than if your property is sold at a forced auction, which involves considerable costs.
What does the property buyout offer consist of?
If there are already debts on your property, we will pay off your debt. We will arrange all negotiations with creditors and bailiffs and pay them off. We will then buy the cleared property for an agreed price. Most potential buyers are deterred from buying a property by the debts attached to it, as it carries considerable risks for them. Over-indebted properties are de facto unsellable by the standard form of sale and forced auction is in the vast majority of cases the least profitable solution for the owner. We can help you whether it is an apartment, a family house in Prague, Brno, or any other property anywhere in the Czech Republic.
We know that the problems people get into by getting in over their heads financially are very unpleasant and often they act irrationally as a result. Some people in distress, then, easily fall into the arms of speculators and unscrupulous businessmen who will deprive them of the last of what they might have left.
If you quickly need money to pay off your debts then a buyout may be for you
To find out more call +420 603 426 237 or contact us via the form.
What people are saying about our services
We asked our clients if they were willing to comment on the work of our agents in front of the camera. Here are their authentic statements. For more references from clients, see references.