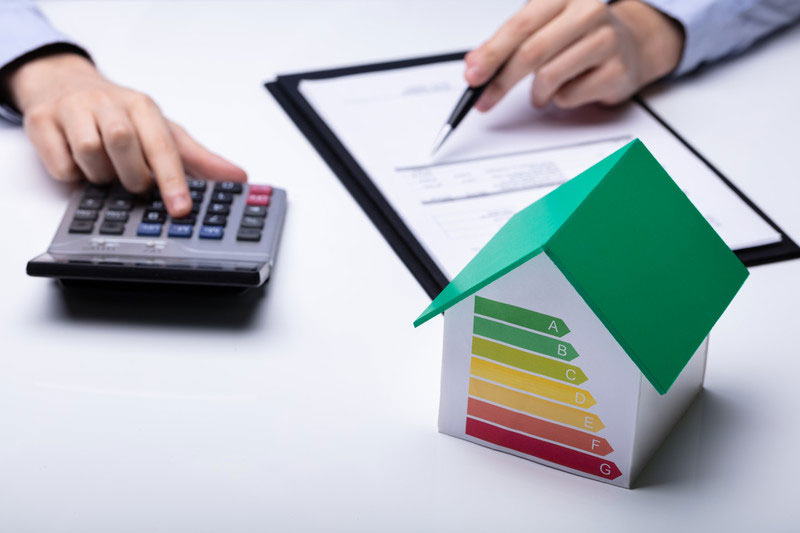 From 1 July 2015, the owner of the building or a part of that building must ensure that they have a valid PENB when selling the building or its integral part (for example, an apartment inside the building). From 1 January 2016 a PENB is also necessary to rent the property out. However, there are exceptions.
The builder, the owner of the building, or a part of that building are usually obliged to ensure they have a valid energy performance certificate, for the following circumstances:
after constructing a new building;
when a building is used by a public authority;
when selling a residential property or office space from 1.7. 2015.
The owner of an individual housing unit is obliged to display the building's energy intensity rating in information and advertising materials during the sale of the housing unit from 1 July 2015, and when renting the unit out from 1 January 2016.
The owner is also obliged to present the energy certificate to those interested in purchasing the unit before concluding the purchase contract and, from 1 January 2016, also to those interested in renting the unit. In the case of an apartment the owner can request a copy of the PENB from the building's manager in writing. If they do not respond, then they can use the last 3 years' of utility bills (electrcity, gas, and heating) as an alternative, but must prove that they have requested in writing a copy of the PENB from the building managers. If they have still not provided a copy by the time the purchase contract is being signed then they must report the situation to the Státní Energetická Inspekce (State Energy Inspectorate) or SEI. In failing to provide a certificate, all information and advertising materials concerning the sale must display an energy rating of class G (the worst rating).
A building's energy performance is assessed on the basis of the total annual energy supplied, which is understood as the amount of energy supplied to the building, including energy produced in the building by renewable energy sources and consumed in the building. It is therefore mainly the amount of energy needed for heating, cooling, ventilation, humidity adjustment, hot water preparation, and lighting.
The amendment does not apply to the transfer of membership rights and obligations in a housing cooperative, however, from January 2016, the housing cooperative must also have the energy certificate processed.
The certificate is valid for 10 years from the date of issue, or until a major change is made to the completed building (which includes adjustments of more than 25% of the building's external structure). The certificate can be processed only by a qualified energy specialist, as listed by the Ministry of Industry and Trade. The certificate also contains a graphic, which is commonly referred to as an energy label.
Energy performance certificates are seen as indicators of a building's energy consumption, giving those interested in buying or renting a property the opportunity to assess operating costs, or the cost of possible reconstruction. It is therefore similar in nature to other ratings supplied, for example a vehicle's fuel consumption rating or the electricity consumption rating of electrical appliances.
Selling a property
When do you need a building's energy performance certificate?
Are you selling your apartment, warehouse, office, residential, or non-residential space? Then, as the owner you are obliged to process an energy performance certificate if:
The building is intended for housing and as a residential building it is also registered in the state's land registry (katastra);
The building is larger than 50 m2 of what Czechs call 'energeticky vztažné plochy' or the energy reference area. This is basically the total floor area of all heated areas, aka not small properties;
A property is a commercial object registered as a business property or administration building;
A property that is in insolvency proceedings and subject to sale through a purchase agreement;
Apartments that are being sold (here the certificate can be obtained from the building managers).
When is a building's energy performance certificate not needed?
The energy performance requirements of a building shall not apply to:
buildings with less than 50 m2 of what Czechs call 'energeticky vztažné plochy' or the energy reference area. This is basically the total floor area of all heated areas, aka small properties;
buildings for family recreation (cottages, recreational facilities);
on listed buildings (however, beware of listed facades and other exceptions for which a PENB applies, if the building is not a protected monument according to the state land registry);
buildings used for religious purposes;
properties that are not registered in the state land registry (katastra) with a prescibed number;
if the property passes from one person to another through inheritance or as a gift;
Transfer of rights from person to person (when transferring the apartment of a housing cooperative to the future owner)
industrial and production plants, workshops and agricultural buildings with energy consumption up to 700 giga joules (194,444 kwh) per year.
buildings put into operation before 1947 with the written consent of the buyer that he does not require an energy certificate and the building has not undergone changes to the exterior structure of more than 25%.
From 1 July 2015, the seller (owner) must provide an energy certificate for a property on sale to the public. In the event that the energy certificate is not processed and the property is accordingly awarded an enrgy rating G (the worst rating), the owner of the building is not protected from possible inspection by the State Energy Inspectorate and from penalities of up to 100,000 Czk.
If a real estate agent does not receive an energy certificate from the owner for use in advertising, they must label the property as energy rated G, which will naturally have a negative impact on the sale and the property's value. In practice, any property advertised for sale without a valid PENB may receive a visit by the State Energy Inspectorate with the possibility of receiving a fine.
Renting a property
When do you need an energy performance certificate for renting a building out?
Are you looking for tenants for your apartment, warehouse, office, residential, or non-residential space? Then you are obliged to provide an energy performance certificates if:
The building is rented as a complete building;
The building is a commercial property that is rented out as a complete building and is not operated by the owner himself;
The building is a warehouse and is leased to another operator.
When does a building not need a certificate of energy performance for rental?
For industrial and manufacturing plants, workshops and agricultural buildings with energy consumption up to 700 giga joules (194,444 kwh) per year;
Furthermore, the PENB obligation does not apply to production halls, sports facilities and technical premises which are not intended for administrative activities.
From 1 January 2016, the PENB must be part of every newly concluded lease agreement handed over to the leasee at the contract signing.
Why is an energy performance certificate required?
The certificate itself is created by an assessment of the building or apartment by an energy specialist with knowledge in the field of building structures and energy, where the whole building is assessed in every detail. You may then use this energy certificate for the next 10 years for the following transactions:
The sale of a house
The rental of a whole house (complete building)
The sale of a commercial property
The sale of a housing unit
The lease of an office, warehouse, business premises (if the building as such is entirely intended for lease and the owner does not have a permanent residence or residence there)
For requiring a building permit (new buildings)
For requiring a building permit during reconstruction
Before the completion of construction (for approval or re-approval)
When replacing a heat source with a new one with higher efficiency or when installing a heat pump or solar panels
For acquiring a Green Savings Grant
If you are buying a property, make sure that you get a copy of its energy performance certificate. You are legally entitled to a copy when you purchase or rent a property and may later need it if you want to reconstruct or make changes to the property.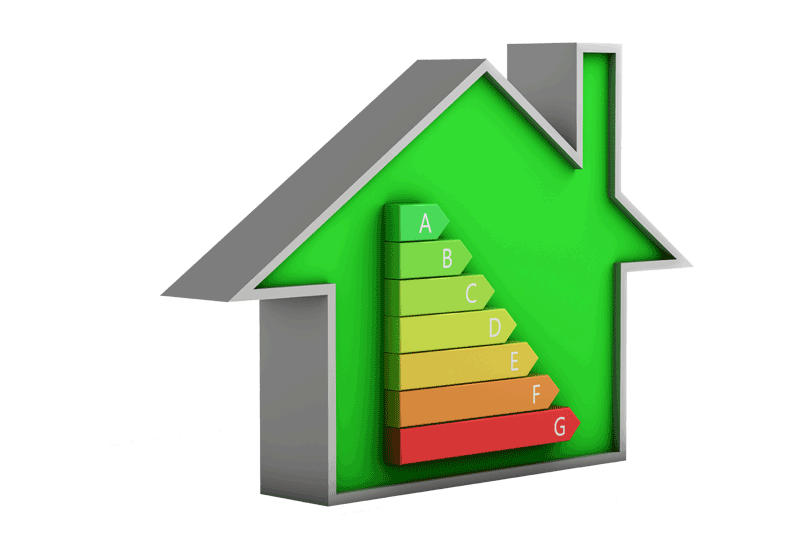 What will you learn about the property?
First of all, you will find out the overall state of the building's construction from the certificate. Detail that will include the condition of:
floors and their insulation
walls of the building's envelope, composition and insulation
windows and doors and their thermal insulation properties
ceilings and their insulation
roof structures and their method of insulation
overall dimensions of structures, windows and doors
information on structures that would be worthwhile insulating or replacing
information on the quality and efficiency of hot water or heating systems
information on how much any potential investment in insulation will be required
From this data it is possible to compile an overall picture on the condition of a property, its quality and any detected defects, such as leaks, thermal bridges, condensation and more. In addition, it is possible to learn about the heat loss from the building's envelope and from the current heating system used. The system for heating and domestic hot water are also mentioned here including their age, type of fuel consumption and, above all, their efficiency. From this, one can assess if or when the boiler will need to be replaced or if investing in a new system will generate significant savings or improve the building's overall rating.
At a glance of the certificate, someone can gauge a building's quality and whether any future investment will be needed.
For each time the building is reconstructed or a reconstruction permit is requested from the local authorities, the property owner will need to provide a valid energy certificate, so make sure you get a copy from the person selling you the property when you sign the purchase contract.
What if your building your apartment is in doesn't have a valid PENB?
If you own an apartment in a building (společenství vlastníků jednotek or SVJ) and you want to sell or rent it out you need to provide a valid PENB. But what if the building's mangement fail to provide one?
It is, of course, best to try to explain to those responsible for managing the building that it is their duty to provide a PENB. However, if they are still unwilling to act and you want to avoid penalties from the SEI, you must ask the building's management for a PENB in ​​writing. This formal request should include the reason the PENB is needed and allow a period of up to 14 days from receipt of the request to when a PENB must be provided. The request should outline that the building's management team are obliged in accordance with Act 406/2000 Coll., on energy management to provide this certificate.
If, as the owner of an apartment, you do not receive an answer from the first request, send a second call with a deadline of 7 -10 days, referring to the first request and notifying the building's management that if the PENB is not received he will be forced to forward the issue to the SEI.
If you do not receive a PENB even after the second request, send a copy of the correspondence to the SEI with a complaint and a request that the SEI obtain it from the building's management. In such a case, you could take advantage of the fact that you did not receive a copy of the PENB and you could instead replace it with energy bills for the last 3 years, thus avoiding your need for the PENB.
97% of all apartment buildings in the Czech Republic do not fall into the worst energy class (class G). Yet, it is necessary for an apartment owner to have an energy certificate so as to avoid negative repurcussions. For non-compliance of this legal obligation, the owner of an apartment or possibly the building's management risk a fine of up to 200,000 Czk and will then be required to pay for a certificate to be produced.
Sanctions for building owners and operators
The very introduction of energy certificates has a negative side: penalties. But who can be penalised? Any selling or leasing owner of an apartment, building or house who violates the legal obligation to present an energy certificate to the buyer when it first goes on the market (this includes in advertisements). When selling or renting out a house or commercial building, the owner (as an individual or 'fyzická osoba') is subject to a fine of up to 100,000 Czk. Legal entities, such as businesses (or 'právnická osoba') are subject to fines of 200,000 Czk.
This fine is applicable from 1.7.2015 for anyone in non-compliance. This means that each property advertisement must be marked with an energy class and a calculated value based on the certificate. If this value is not advertised, the State Energy Inspectorate can immedicately initiate inspections and administrative proceedings against the owner.
The State Energy Inspectorate and the Ministry of Industry and Trade incorporated these penalties into Act 406/2000 Coll. on energy management. As soon as you begin advertising a property for rent or sale, you (or your real estate agent) must provide a valid energy performance certificate when asked. Failure to do so will make the property owner liable for a fine.
Some people argue that if the seller and the buyer agree that neither of them want or need an energy certificate then a PENB is not necessary. This is wrong. An energy certificate is needed for every sale or rental. Adding that a PENB is not wanted into a purchasing contract only provides written proof of a failure to meet this obligation and are breaking the law. As such it is easy for the authorities to prosecute not only the property owner, but in this case also the buyer or tenant.
If the buyer decides that the newly purchased property requires immediate reconstruction or other major modification, they will need to request a building permit. If he did not receive one from the seller, then he will have to provide a new one himself.
Before paying for a new PENB to be made, the new owner may try to contact the person they bought the property from to obtain the original certificate. However, based on the purchase contract, a dispute may arise over whether the certificate was provided or not. Sometimes the dispute drags on, even though the contract stipulates that the certificate was handed over when the purchase contract was signed, as the certificate's existence can be easily verified at the Ministry of Regional Development in the ENEX database, where the certificate is registered.
How to protect yourself against this? Firstly, it is important to have an energy certificate prepared and hand it over to the buyer when signing the purchase contract. Preferably, both the buyer and the seller sign the original certificates, which they pass to each other. This should avoid any future dispute. Especially, as no one wants to cause trouble with the threat of a 100,000 Czk fine for non-fulfillment, as well as other potential non-economic penalties.
Secondly, do not think that this issue does not concern you. If you are selling a property for hundreds of thousands or millions of krowns, do not decide that saving several thousand krowns to have an energy certificate made is a good saving. If you come across a buyer who understands the issue, it could be even more expensive or you will simply end up having to get it done anyway, delaying the transaction.
Additional risks for the seller
A building's energy performance certificate is an important document corresponding to the technical and energy assessment of the property under Decree 78/2013 of optimal conditions.
If the property owner expressly avoids fulfilling this statutory obligation pursuant to Act 406/2000 Coll., On energy management, which states that he is required to have a permit for the sale or lease of a property drawn up, he is risking the entire transaction unnecessarily.
Every buyer has the right to full information about the condition the property is in, not only in terms of "defects and the state of the property" but also in regards to its running costs.
If these legal obligations are not fulfilled, the buyer may revoke or deem the purchase contract as partially or completely invalid for up to 5 years after signing.
An insolvency administrator representing the property owner is also obliged to ensure that a valid energy performance certificate is available for the sale or foreclosure of a property.
My advice to you is to never neglect or avoid getting an energy certificate for your building made, as you may cause major legal and financial damage when selling or renting your property.
Would you like to have an Energy Performance Certificate for a Building drawn up?
Please contact me. I am energy consultant Ing. Jarmila Bílá.
The author of this article.
I am an authorized engineer in the field of buildings' technical equipment and a certified energy specialist. I am also a member of the Association of Energy Specialists. I have been processing energy performance certificates for buildings since 2008, with a wide range of experience in energy performance assessments and legislation. I work mainly in Prague and its surrounding area. Although, it is possible to arrange the processing of a PENB certificate for real estate further outside Prague.
I process certificates both for residential engineering properties (family houses, apartment buildings) and for properties intended for commercial purposes (administrative buildings, hotels, schools, industrial buildings, etc.).
Personal inspection of any building being assessed is a matter of course (although it is possible without it, if, for example, there is sufficient construction documentation and photos – which could even lead to a quicker assessment). Either way, I can take care of all your PENB needs. I will visit the property, take care of all documents, and then, once complete, hand over your PENB certificate.
Prices for drawing up a PENB certificate (including delivery)
Delivery times are from one to two weeks (by agreement), and if necessary within three days.
For example, the cost of a PENB certificate for a family house ranges from 3,000 to approximately 5,000 Czk. For an apartment building the price is approx. 8,000 Czk. I can also process a PENB for a commercial building. The price for any PENB is highly dependent on the size and structure of the property and on whether and to what extent there is construction documentation (i.e. whether it is necessary to redo the documentation or update it in any way). Unfortunately, due to the diverse range of properties and the varying completeness of documentation, I cannot offer you a uniform pricing structure. I work independently on my own IČ trade licence, although I am not a VAT payer.
Ing. Jarmila Bílá, energy consultant and recommended supplier by RE/MAX Alfa